Simple – Yes. Creative – Absolutely.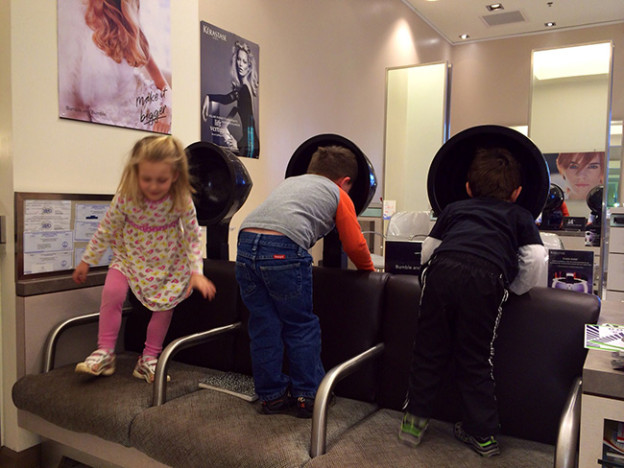 The more complicated life gets, the more simplicity is revered. The same goes for marketing a business, a product, or a cause.
Needless to say, if you are starting or wanting to grow a business, complexity is with you nearly every step of the way … or at least that's what you may perceive much of the time.
However, your marketing does not have to be complicated. In fact, I highly recommend taking a simple approach. But first, if you are not clear on your mission and cannot simply articulate it, you will confuse those whom you are targeting.
Take for example the accompanying photo. I was waiting to get a haircut at a salon recently when three children came in with their caregiver. Upon arrival, the caregiver placed them on the floor with paper and crayons. Within minutes, the children found two straws each, placed them in their mouths likening the iconic long tusks of walruses, and proceeded to gather around me as I was reading a magazine. I peered over my magazine to a "sea" of children about 2 inches away from me. I found this charming, and then quietly watched them as they discovered their next adventure – a series of hairdryers. As you can see, the hairdryers provided quite the creative outlet for these inquisitive children.
What lessons did these children reinforce?
Attention span is short (and getting shorter)

A tidal wave of information is currently within consumers' reach, and is growing exponentially
Time is finite
Time is competitive by nature, e.g., "I'm bored; what's next?"
Simplicity is alluring

Easy to digest, e.g., "snackable"
Memorable; won't fatigue the brain
Creativity is experiential

Does not have to be complex or cost a lot
Experiences can and will be relished time and again
To simplify your marketing – especially at first – it's critical to have at least a high level understanding where you, as a business leader or owner, need to spend your precious time. Understanding your business, such as "Why am I in business?" – or – "Why do I want to be in business?" is key to a good foundation.
While you may already be familiar with people asking what makes your "product" different from your competitors' (by the way, everyone has competitors – it's called share of wallet, share of heart, or share of mind– and if you're like most business owners, I suspect you'd probably like more than your fair share!), what I'd like you to focus on is "What does my 'product' ask the customer to become?" By framing your business/product/cause this way, you'll become much more creative on how you define your purpose. Ultimately, you want your customers to 1) know what you do, 2) like what you do, and 3) trust what you do. This progressive series is appropriately given the acronym "KLT" (Know | Like | Trust).
Other more obvious, but nevertheless tough questions you'll need to answer throughout all stages of your life cycle are:
What am I trying to achieve financially?
What are my costs?
What will my target market bear in terms of price point?
What kind of short- or long-term customer services am I willing to offer?
What is my brand's personality? How do I want my target market to know or view my business?
Answering these thought-provoking questions up front will help set you up for success. It's your foundation. Tactics built on these answers will complement and help support your overall foundation or, alternatively, if gone unanswered, it could cause the foundation to crumble. (Hint: Pick the first option!)
We are all children on the inside. A relative of mine once mentioned that although she was 76 years old on the outside, she felt like she was still a youthful 12 on the inside. That's the power of the brain!
Yes – life is complicated, and our businesses, products, and causes can be complicated, but resist the urge to show this in your marketing. Think focused, simple, and engaging when developing your overall mission, tag line, design, logo, content, Website … or whatever customer-facing materials you may have!
It's the tough questions we ask ourselves upfront that can create such marketing simplicity and creativity. And no one has to ever know what happened behind the emerald green curtain to get such streamlined results.